Dental practice Daniel Schäf
A dental practice for the whole family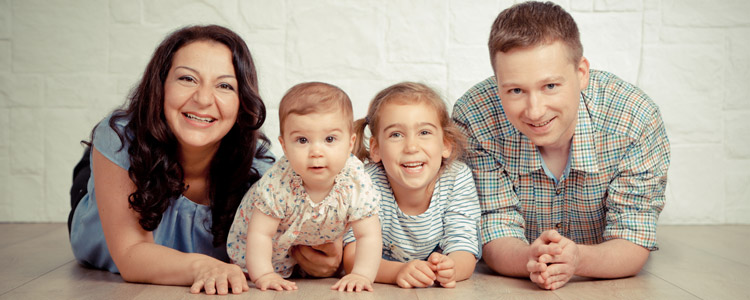 Dear patients,
Welcome to the Schäf dental practice – your dentist in Darmstadt!
Our dental practice in the heart of Darmstadt is traditional – in Adelungstraße, it has stood for quality-oriented dentistry for more than four decades. At the beginning of 2018 it was taken over by Daniel Schäf. His vision: a modern, varied practice, where patients of all ages are in good hands.
Strong teeth for a lifetime - we would like to achieve this goal together with you. The foundations for this are laid in childhood: with thorough care from the first tooth, today, it is often possible to grow up without cavities. However, prevention is worthwhile at any age: in many cases it can ensure ongoing oral health, and you can keep your own teeth for your whole life.
A dental practice for the whole family
Patients of all ages are welcome with us, from small children to seniors. We know about the special requirements of the various age groups, and consider these in individual treatment planning - we offer you modern, varied and careful dentistry for the whole family.
A cautious approach, which uses the latest scientific knowledge, is therefore very important in our practice: using high-tech processes, we can often make treatment more successful and comfortable for you. Special highlight: our practice has a state of the art CAD/CAM system, with which your all-ceramic inlays, crowns and bridges can be planned without impressions and three-dimensionally on the computer, and produced precisely to the millimetre using a milling unit - usually in just one appointment!
We look forward to your visit!
Daniel Schäf, Diren Schäf & the practice team
Services
All-round excellent care: in our modern dental practice in the centre of Darmstadt, we offer a wide range of dental medicine for the whole family. The care of children and adults, tooth preservation treatment methods and firmly anchored dentures on implants are our particular focuses.
Our treatments at a glance:
Prevention – so that problems such as cavities do not occur in the first place, and to keep teeth healthy right into old age.
Oral surgery – tooth implants, wisdom teeth removals, root tip resection, exposure of displaced teeth, cyst removal
Children's dental medicine: for good oral health from the first tooth.
Dental implants: the latest form of denture - natural and highly aesthetic.
All-ceramic crowns, bridges, inlays, onlays – produced with our CAD-/CAM system (Cerec), usually in just one appointment and in our in-house laboratory.
Cavity treatment / fillings: biocompatible, discreet solutions in the case of cavity damage.
Treatment of dental accidents: pain management, correction of broken teeth and much more
Root canal treatment: modern procedures such as mechanical preparation for your tooth retention.
Parodontitis treatment: continual bacteria removal to stop the inflammation
Beautiful teeth: all-ceramic, veneers etc. for a radiant smile.
Bleaching – gentle tooth lightening by several shades.
Transparent dental retainer (Aligner): almost invisible correction of tooth misalignments.
Functional diagnosis CMD– for harmonious coordination of teeth, jaw and chewing muscles.
Senior dentistry: bite powerfully - even when you get older.
Contact
You can easily reach us by tram, bus and train – the Luisenplatz stop is just three minutes' walk away. When travelling by car, you can use our parking spaces and there are several car parks available in the immediate vicinity. We have created separate parking spaces for bicycles and pushchairs in our yard.